Discount Zend Certification Exam Voucher Framework
Non-returnable
This voucher will be valid for either Zend Framework 1 or the brand new Zend Framework 2 exam!
The Zend Framework 2 Certification exam covers the following topics:
Service Manager



MVC
Module Manager
Event Manger
Forms
Security
Filter and Validation
Authentication and Authorization
Database
Utility
Web Services
Performance
Internationalization
The Zend Framework 1 Certification exam covers the following topics:
MVC



Forms
Database
Authentication and Access
Filtering and Validation
Web Services
Infrastructure
Search
Mail
Internationalization
Security
Coding Standards
Performance
Diagnosis and Maintainability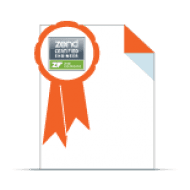 Vouchers purchased can be use Online and also at any Pearson VUE test center, any recognized ZEND Authorized Training Partners around the world. The voucher number will be delivered via email. All vouchers are valid for 12 months from the month purchased. All sales of exam vouchers are final. No exceptions..
What version of Zend Framework do the exams test on?
The exam tests on Zend Framework 2 version 2.2; Zend Framework 1 version 1.5.
How long do I have to take the Zend Framework Certification Exam after I purchase the voucher?
The Certification voucher is valid for 1 year from the date of purchase.
How do I schedule my exam date?
Once your purchase has been confirmed, you will receive an automatic email confirmation with a link for downloading your Certification exam serial key and instructions on how to schedule your exam date.
What if I need to retake the exam?
Although we are confident you will pass the first time, We offer a discount on Certification Exam Retakes. For more information contact please contact us: contact@certshopservices.com
Can I get a refund or transfer my voucher?
Sorry, but we do not offer refunds for exam voucher purchases.