Discount Zend Certification Voucher PHP
Non-returnable
The voucher for the Zend Certified PHP Engineer exam – prove your PHP expertise and get listed among the top PHP developers in your region.
Benefits of
Zend Certification Voucher PHP (
Personal & Career)
Gain recognition from your employer and boost your value
Get your resume/CV noticed and differentiate yourself when competing for a new job
Get featured in the Zend Certified Engineer directory
Participate in the ZCE exclusive group on LinkedIn
Get recognized by the PHP community as a proud and dedicated supporter of PHP
Get a free perpetual copy of Zend Studio
Standardize and ensure a high level of expertise in your PHP development teams
Implement industry best practices in your PHP development organizations
Maximize your team productivity and performance
Present a superior professional image to your customers and partners
Gain competitive advantages compared to other software development organizations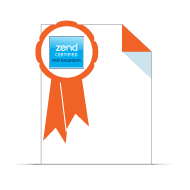 Vouchers purchased can be use Online and also at any Pearson VUE test center, any recognized ZEND Authorized Training Partners around the world. The voucher number will be delivered via email. All vouchers are valid for 12 months from the month purchased. All sales of exam vouchers are final. No exceptions..