VMware VCTA Certified Technical Associate Exam Vouchers
Non-returnable
VMware
Certified Technical Associate Exam Vouchers (
VCTA
)
or
VCTA Certification Exam Voucher
This voucher is redeemable for the following VMware Certified Associate Level exam.
vSphere 6 Foundations Exam VCA/Non-Proctored (VCP6-DCV) | 2V0-620
Associate VMware Data Center Virtualization

1V0-21.20



VMware Certified Associate 6 - Data Center Virtualization Fundamentals Exam (VCA6-DCV) |

1V0-601

VMware Certified Associate 6 - Hybrid Cloud Fundamentals Exam (VCA6-HC) |

1V0-602

VMware Certified Associate 6 - Cloud Management and Automation Fundamentals (VCA6-CMA) | 1V0-603

VMware Certified Associate 6 - Network Virtualization Fundamentals (VCA6-NV) | 1V0-604
VMware Certified Associate 6 - Desktop and Mobility Fundamentals (VCA6-DTM) | 1V0-605
VMware Certified Professional 5 0 Data Center Virtualization Delta Recertification Exam (VCP5-DCV) | VCP550D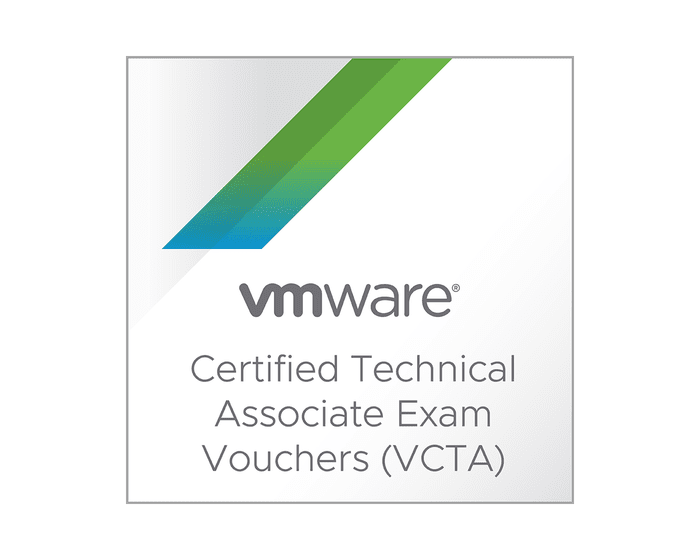 Vouchers purchased can be used Online and also at any Pearson VUE test center, any recognized VMware Authorized Training Center and any recognized VMware Partner Learning around the world. The voucher number will be delivered via email. All vouchers are valid for 12 months from the month purchased. All sales of exam vouchers are final. No exceptions..